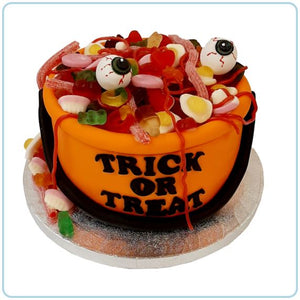 Trick or treat! This orange and black Halloween bucket is actually a delicious cake topped with treats and, for a trick, a pair of edible eyeballs.

This ghoulishly tasty cake is available in vanilla sponge, chocolate sponge, carrot cake, red velvet sponge or rich fruit cake. 
Our models are often made from marzipan, sugar paste, puffed rice and mallow mix, or icing. Please see our ingredients & allergens page for more detail.