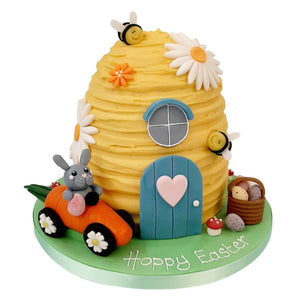 Make this Easter memorable with this adorable buttercream-covered beehive Easter cake decorated with edible flowers and bees. The Easter bunny is delivering eggs in his carrot-mobile.
This cake comes in one size only, which feeds 10-15 people. Ask us for portion boxes if you would like to share with your friends or family! Available in fresh delicious vanilla or chocolate sponge.
Our models are often made from marzipan, sugar paste, rice krispies and mallow mix, or icing. Please see our ingredients & allergens page for more detail.