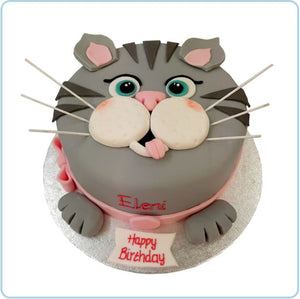 An adorable tabby cat recreated in cake - perfect for cat lovers! If you'd like a different coloured cat, please add a note in the customisation options box to let our Cake Decorators know.
Choose one of our delicious options of vanilla sponge, chocolate sponge, carrot cake, red velvet sponge or rich fruit cake. 
Our models are often made from marzipan, sugar paste, puffed rice and mallow mix, or icing. Please see our ingredients & allergens page for more detail.