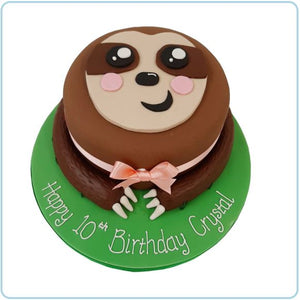 This cheeky sloth will make your birthday child smile! Decorated in fondant icing and with a smart pink bow, sloth fans will love this.

Choose one of our delicious options of vanilla sponge, chocolate sponge, carrot cake, red velvet sponge or rich fruit cake. 
Our models are often made from marzipan, sugar paste, puffed rice and mallow mix, or icing. Please see our ingredients & allergens page for more detail.