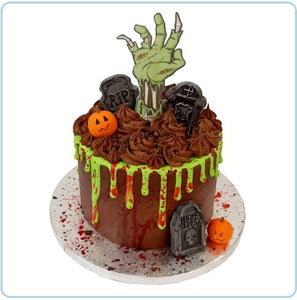 Yikes, this super creepy Halloween will give you chills with it's oozing green drips, buttercream 'mud' and edible graveyard and pumpkin details. Watch out for that zombie hand edible image!
This deliciously mysterious extra deep cake is available in fresh chocolate or vanilla sponge.
Our models are often made from marzipan, sugar paste, puffed rice and mallow mix, or icing. Please see our ingredients & allergens page for more detail.